NAGS Parts, Pricing, and Graphics Update
The following file download links are for the GlassShop Lookup XE, Deluxe, Pro, versions of GlassShop. If you are a Manager user, you are on the wrong page (click Back). None of these are a demo program. They are all updates to existing systems and will only work with licensed and activated versions of GlassShop.
You can check the version of your system by going to Help > About this GlassShop System, and comparing the date on this page to the date on this page. There is a date on the dark blue installation screen which should correspond to the respective date on this screen.
---
Instructions for Downloading
| | |
| --- | --- |
| 1 | This will take typically some time, so set aside some time right now. |
| 2 | Exit your GlassShop System (this is important!) |
| 3 | Click on the corresponding "Data_Tranz_NAGS_UPDATE...msi" |
| 4 | Click on "Run the program from its current location". If you have a slower, connection, Save it to File, and we recommend saving to your desktop, or to the default location - usually "downloads" folder. |
| 5 | Once downloading has completed, you will see our familiar install screen |
| 6 | Install the update to c:\dextr (it should default here) |
| 7 | Verify the install: Open up GlassShop, go to Help > Record Count. the number for NAGS_Glass_PRC should equal: 72964. |
| *** | NOTE: The information referenced for download on this website is for Data Tranz customers only and protected by international copyright law. All IP addresses are logged and matched against those of current Data Tranz customers. Attempted use by those other than those authorized to access the material contained herein will be subject to prosecution. |
---
For the NAGS Update: Do Not Install Before Creating Work Orders For Jobs Dispatched Before The Pricing Change!
One big download...
| | | |
| --- | --- | --- |
| For January 8, 2018 | NAGS Update Database & Graphics, New Database. Do not install before insurance claims are entered under the previous version of NAGS. | DataTranzNAGSUpdate01082018.msi |
VERIFY THE UPDATE AFTER INSTALLING:
Open up GlassShop, go to Help > Record Count. The number for NAGS_Glass_PRC should equal: 72964.
Messages while downloading...
You may receive messages that look like these on your Firefox or Internet Explorer browser. Go ahead press "RUN". Generally, you need to indicate to the browser that you trust us as a secure data source.
From Internet Explorer:


From Firefox:
Click the link. The file will go to its own folder, Downloads. When downloading has completed, go ahead and double click on the file to start the NAGS install program.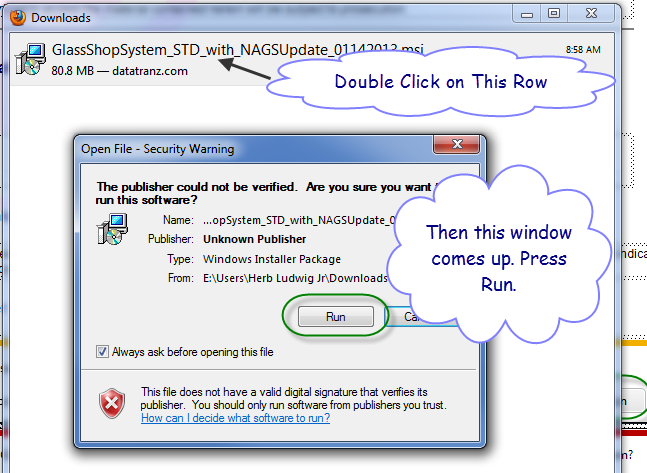 ---